Critical care teams frequently have to deal with uncertainty of prognosis and outcome, simultaneously react to changing physiology with resuscitative measures, consider palliative interventions and communicate (with empathy) rapidly changing situations to patients and families during very distressing times.
Shared decision-making is regarded as best practice but lack of capacity often precludes this. If more information about patients' wishes and beliefs were available ICU teams would be better positioned to make Best Interests decisions, enabling individualised care, thereby minimising confusion and conflict due to clear communications about advance care planning.
This document (full and abridged versions) plus the accompanying lay summary provides recommendations for effective decision-making and resources for clinical teams and the general public. It hopes to encourage open, clear, honest discussions with patients and families enabling improved advance care. Such arrangements will enhance care planning and empower patients, carers and clinical teams to better engage in shared decision-making processes that respect both the philosophical and physiological aspects of individuals' lives.
Useful resources and links
The patient support charity ICUsteps has released the End of Life in Intensive Care information resource for family and friends of patients in critical care.
Though most critical care patients survive, sadly this isn't always the case. This publication provides helpful information about what happens when someone might be at the end of life in an ICU, what to expect and how relatives, family and friends can support the patient and themselves.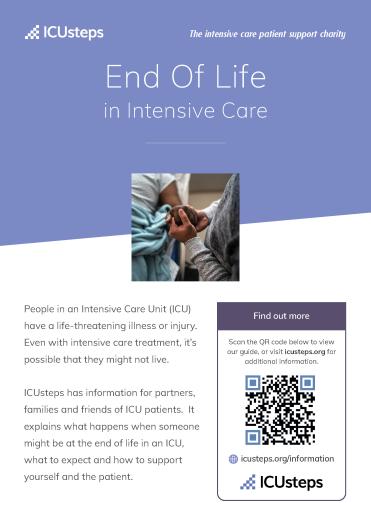 Compassion in Dying have created some useful forms for patients.
In collaboration with the Society for Acute Medicine, the RCP has published End-of-life care in the acute setting to support hospital doctors to improve the care and choices provided to people at the end of their life.
Want to know more?
Browse our Guidelines pages.