Working as a Critical Care Cardiac Physiologist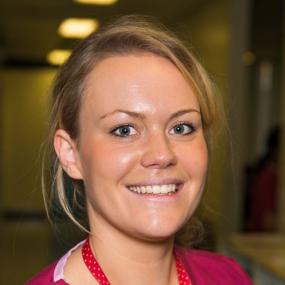 Abigail Gowland
Abi is an Allied Health Professional and works as a Critical Care Cardiac Physiologist at Guy's and St Thomas' Hospital.
I'm Abi and I work as a Cardiac Physiologist. I had never heard of a cardiac physiologist during my time at school. As a teenager I travelled the world to pursue a career in the very niche sport of table tennis also known as ping pong, which meant my studies took a bit of a side line and consequently I didn't have much in the way of a 'traditional' career path. I had to think outside of the box when it came to a career but I knew I loved to engage with people and loved science, so was very grateful when I stumbled across a Clinical Physiology degree.
Just over a decade ago, I trained up in all cardiac diagnostic tests but from early on I realised it was echocardiography that I wanted to specialise in. I was inspired by a Cardiologist who was passionate about it, who pushed and challenged me to train in specialist echocardiography such as contrast, stress and transoesophageal echocardiography (TOE). With a desire to further my experience I successfully applied for a job at Guy's and St Thomas' Hospital which has broadened my knowledge and skills, it has also increased my exposure to a very varied case mix of differing pathology.
Recently I have become the lead Cardiac Physiologist for Critical Care, which is a unique position where I provide training for ICU echo fellows who are training in advanced accreditations, perform complex echocardiograms including TOE on critical care and am a liaison between the Cardiology and Critical Care Departments. Critical care echocardiography has become established as an integral component in the evaluation, diagnosis and has a significant impact on the management of the critically ill patient. I love the team oriented critical care environment, each healthcare professional being extremely skilled in their particular expertise and responsibilities but share a common patient centred goal, causing them to rely on one another, especially during high intensity times when a patient's life hangs in the balance.